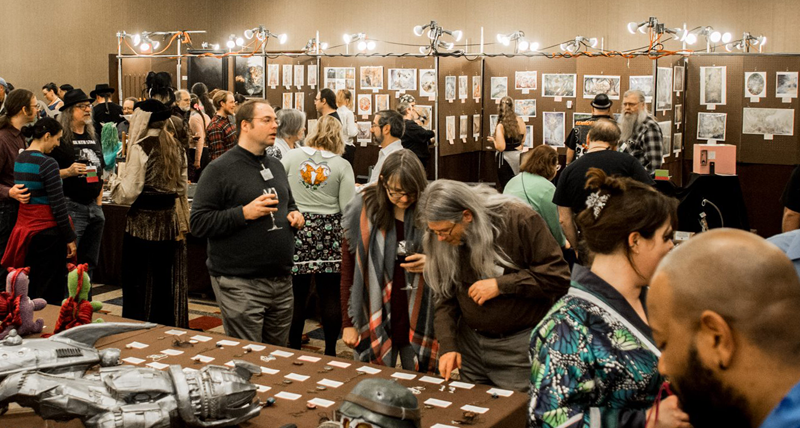 Photo by Cat Trzaskowski
Located in the Harbor II/III ballroom the Art Show featured work by 78 artists including our Artist Guest of Honor Kristina Carroll hung salon style on 500 linear feet of portable wall space and 126 linear feet of table space for 3D works. Subject matter included science fiction, fantasy, space, and other speculative subjects, in a wide variety of media.
The Arisia 2020 Art Show exhibited 1200 individual works, of which 1182 were for sale, and 2873 copies of 611 prints on 132 panels and 21 tables. Of these we sold 258 individual works and 716 copies of 321 different prints for a total of $28,063.00. 454 Arisia attendees bought art.
Sales per panel ranged from $0-$800. Of 78 artists, 67 sold works. Sales per artist ranged from $0 to $2775.
Artist payments were sent on February 10.
Applications for the Arisia 2021 Art Show will open in June 2020.
2020 Art Show Winners
Best in Show
Lioness Seahorse by Kimberly's Creatures
Popular Choice 2D
Nocturne V by Kate Adams
Popular Choice 3D
Frost Giant Mask by Embercraft Creations
Artist Guest of Honor's Choice
Things Slipped Through Our Fingers by Reiko Muramaki
Author Guest of Honor's Choice
Young Dragon Mage by Kristina Carroll
Fan Guest of Honor Awards
Wishing Dragon by Rachel Creemer
Convention Chair's Choice
Not to Scale by Theresa Halbert
Art Show Directors' Choice
Woodelf Warrior on Stellar's Jay by Heather Gamble
Our Lady of the Bird by Lori Del Genis
Art Show Staff Choice:
Kristina Carroll