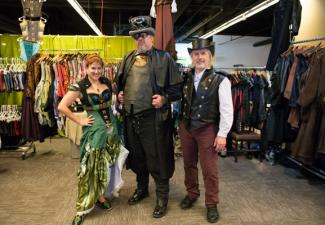 Looking for something special? Have a little time to do some shopping between scheduled events? You'll find all sorts of interesting books, magazines, T-shirts, videos, posters, jewelry, artwork, sculpture, costumes, games, and much more for sale at Arisia.
We have a list of vendors who will be selling in the Dealers Room: Dealers Room List.
Proposed Dealers Room Hours are below.
Fri 5:00 PM - 9:00 PM
Sat 10 AM - 7 PM
Sun 10 AM - 7 PM
Mon 10 AM - 2:30 PM
The Dealers Room is SOLD OUT at this time. Applicants will be placed on a wait list and will be notified if spaces open between now and January. You'll also be added to the mailing list for Arisia '21.
If you are interested in vending at Arisia and getting on the wait list, please read the Dealer FAQ. Please note that you will need a Massachusetts Sales Tax ID.